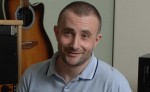 Andy Wetson, (aka DJ Andy Almighty), is a respected DJ on the London gay scene, holding one of the longest weekly residencies on the London gay scene as well as being invited to play at large gay circuit parties in the USA and in 2012 headlining with Kylie Minogue at Sydney Mardi Gras. He launched the now institutional Sunday session, S.L.A.G.S/Chill-Out at the Royal Vauxhall Tavern, nearly 15 years ago. He has also DJ'd at legendary gay nights such as Love Muscle at the Fridge, XXL's Fusion at The Arches, Heaven, G-A-Y at The Astoria and has played at various club nights at Fire, Area, Club Colosseum, Union, Factory and more recently for 6 months at Pulse playing the main floor at XXL, the biggest weekly gay club night in the UK.
In addition, Andy has worked for many years as label manager for London based DJ promo company CD Pool, as well as enjoying considerable success with his Club Junkies alias, remixing artists such as Tinchy Stryder, Nicole Scherzinger, Maroon 5, Alcazar, Vanquish, Jason Derulo, Kylie Minogue, JLS, StoneBridge ft. Therese, Dionne Bromfield, Ola, Melanie C, Jamelia, McFly, Ida Corr, A1, Gwen Stefani, De'Lacy, Ruff Driverz and others.
Andy has previously worked as a graphic designer (he is qualified to degree level in typographic design), publishing for the gay press, part time at a record store owned and run by Almighty Records and then for 8 years he headed up the remix team Almighty, effectively managing the team and doing everything from sourcing the work, briefing the studio lads to delivering the work, chasing the money and general networking/schmoozing! In addition he was head of sales, marketing and design for this small but once extremely popular label. He left Almighty in the summer of 2005 to join CD Pool.
Andy is based in north Nottinghamshire though he travels often to London for meetings and to DJ.